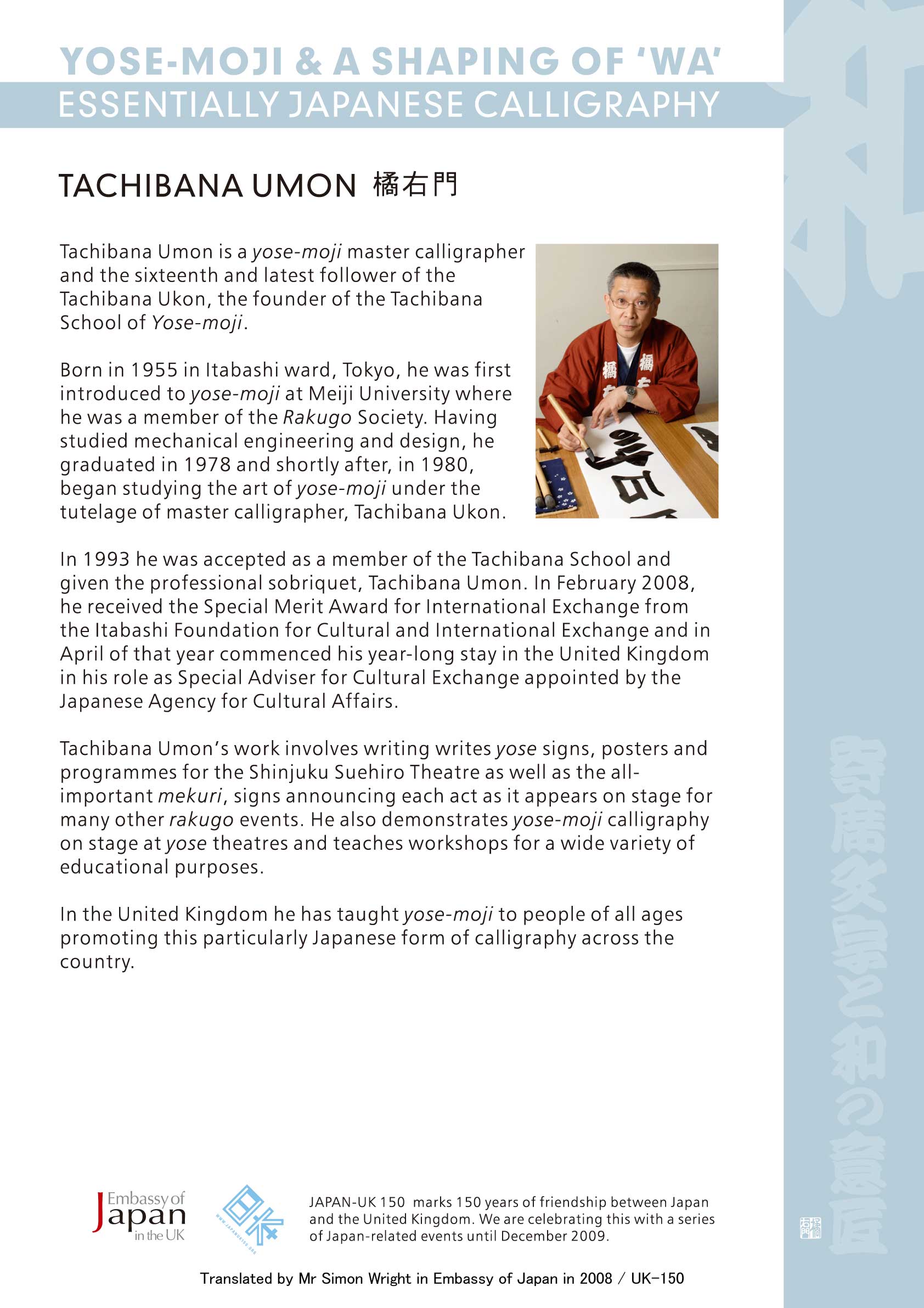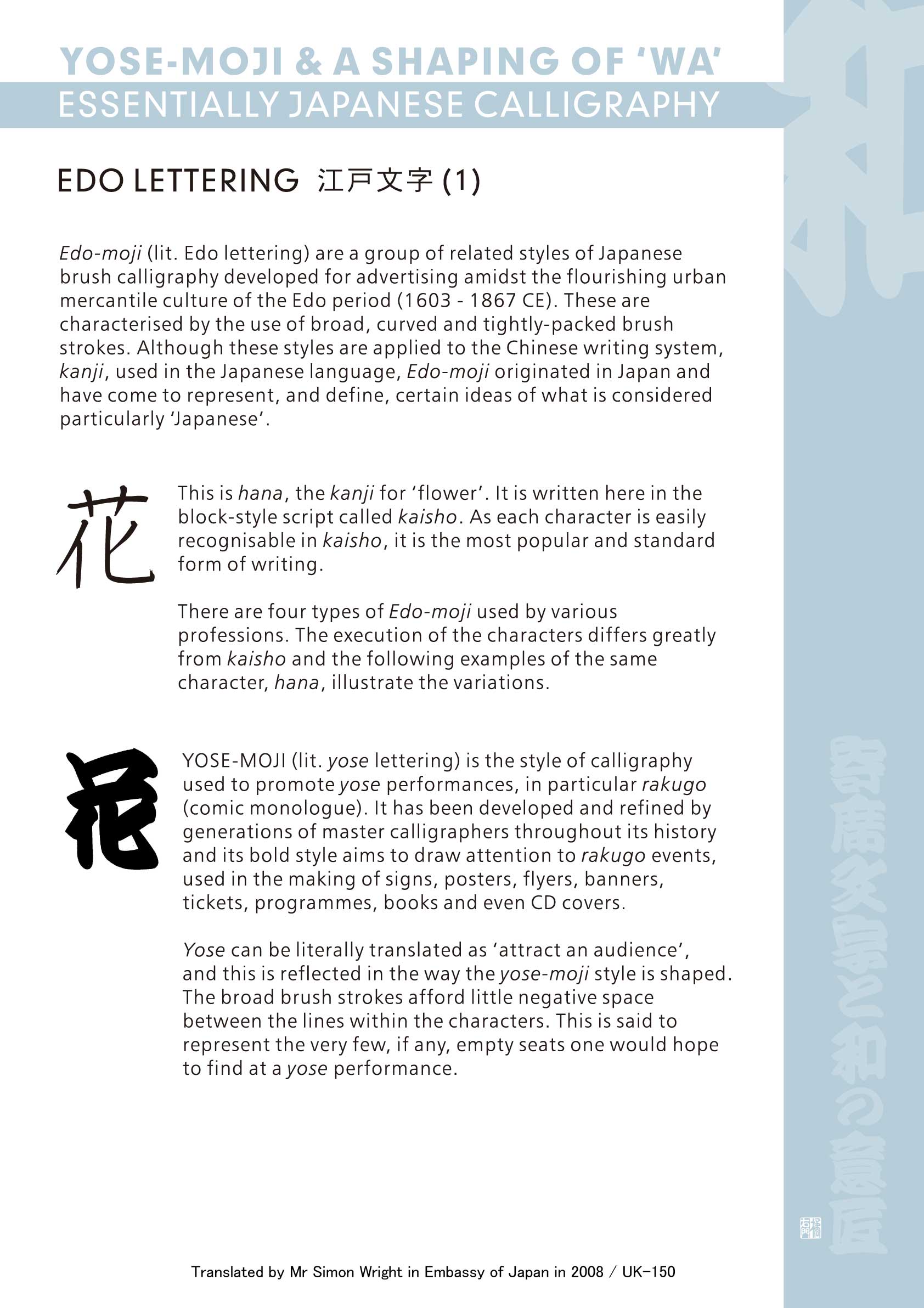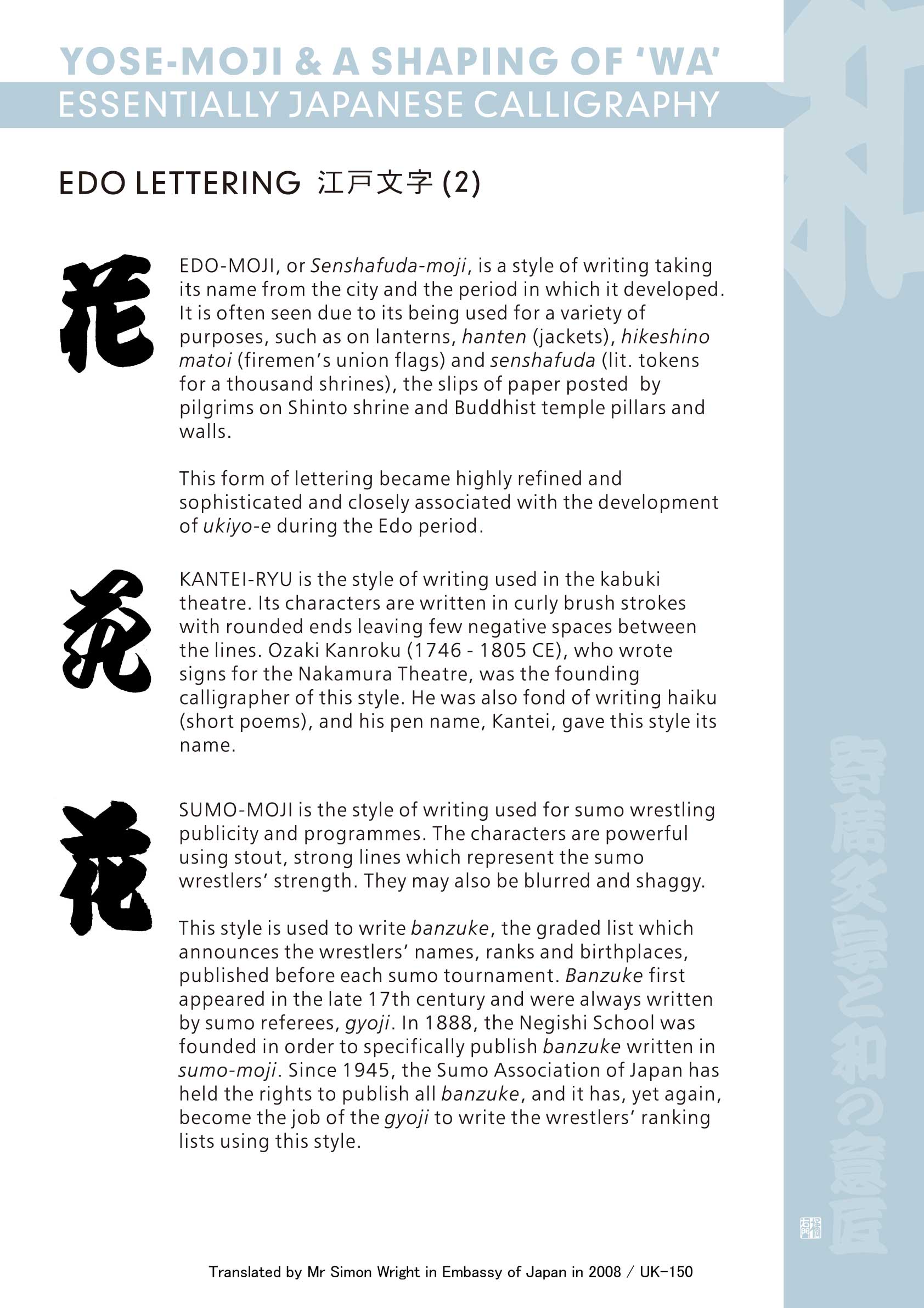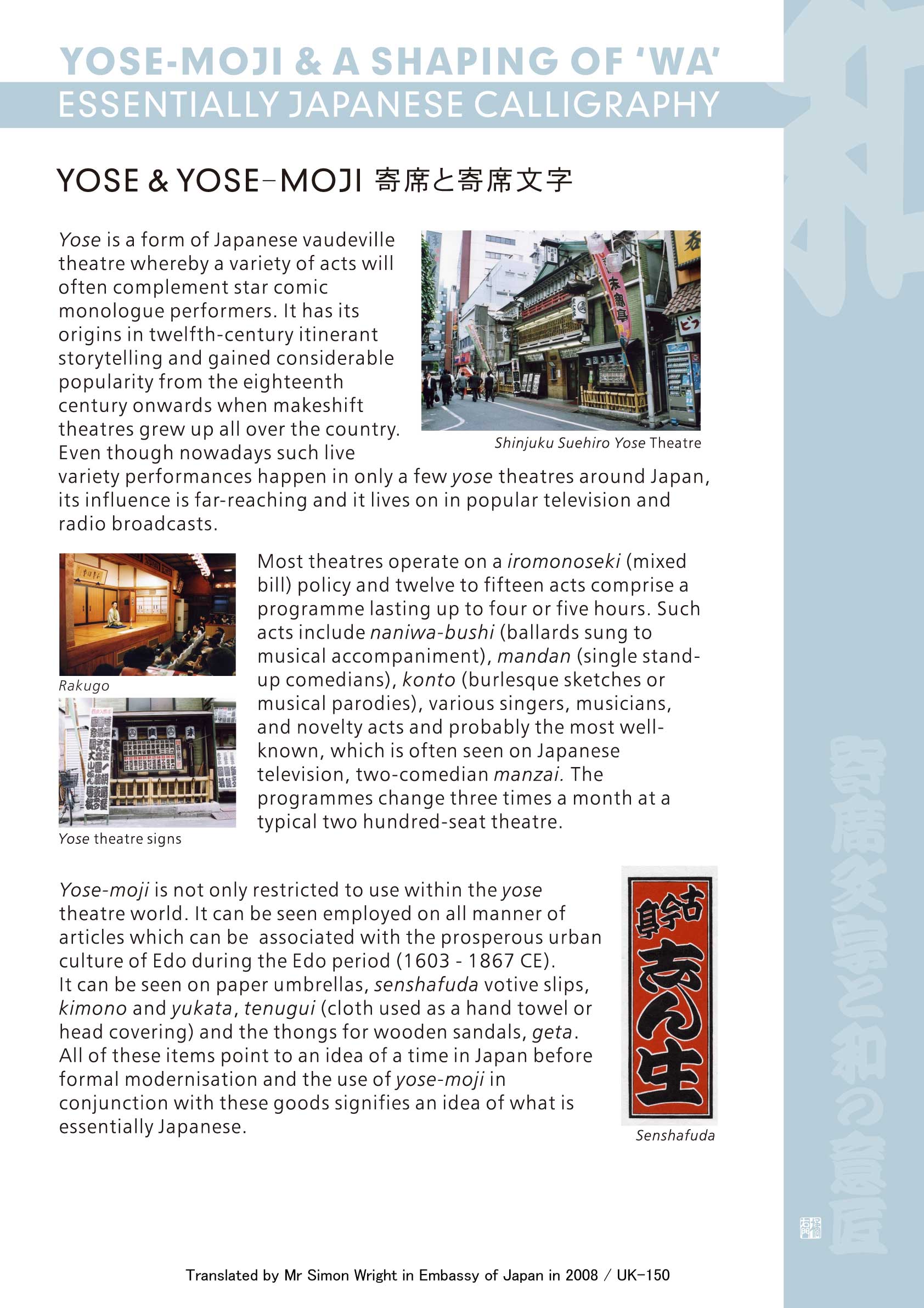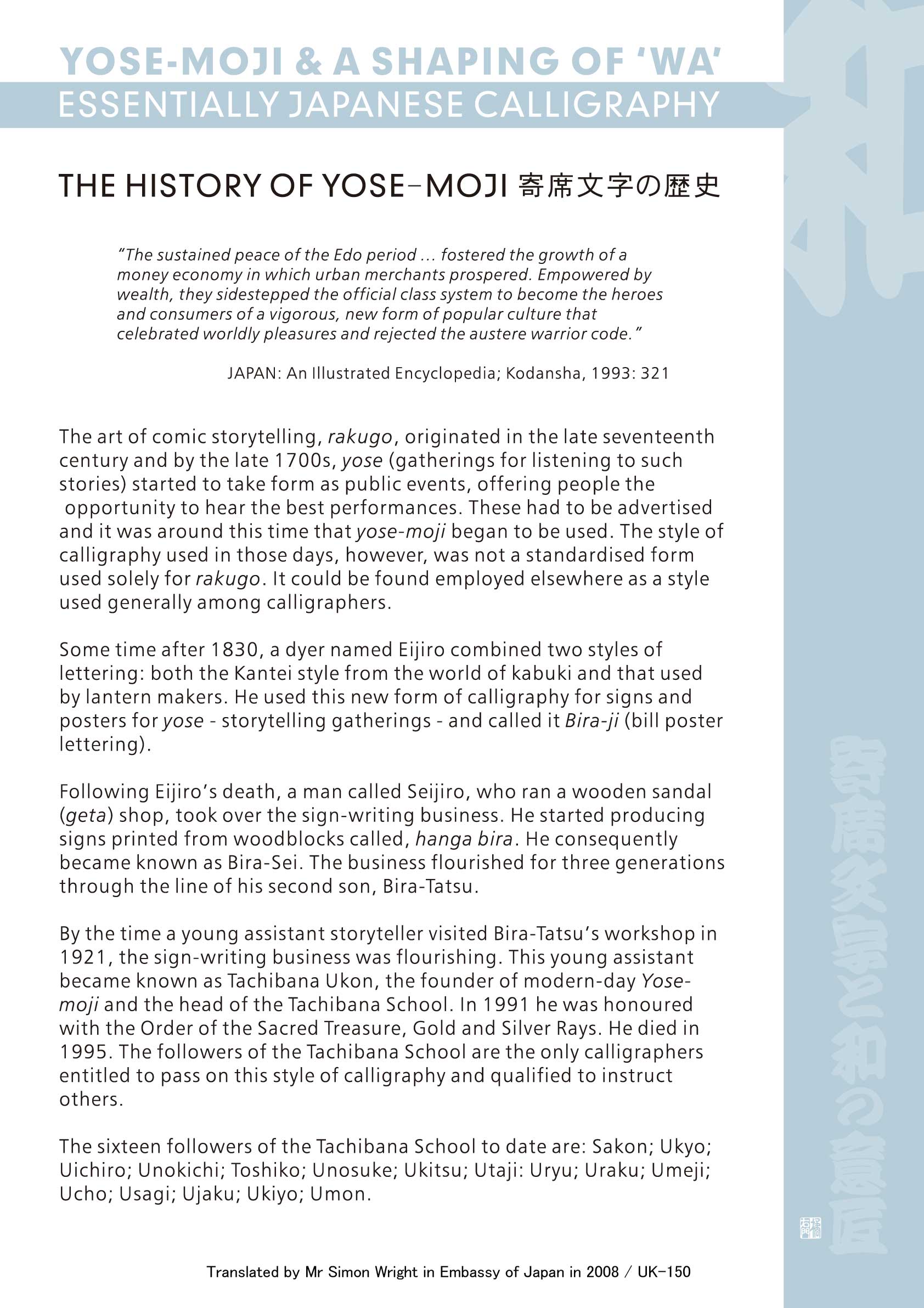 丂丂丂丂丂丂丂丂丂丂丂丂丂丂丂丂丂丂丂丂丂丂丂丂丂丂丂丂丂丂倄倧倱倕丂俵倧倞倝


Yose Moji is the name of letters which has been used in Rakugo (the traditional story telling)
world since Edo era (15 ~ 17th centuries) and is known as a Japanese traditional art.
Yose Moji, the form of letters which were produced for Rakugo, has been refined by many
calligraphersand passed on from generation to generation.丂Many people are attracted with
the letters of Yose Moji in black written on the white paper in a well balanced-manner
that creates very sensitive artistic forms. Yose Moji actually draws people乫s attention to Rakugo.
It is not exaggerating for us to say that Yose Moji is a part of Rakugo world.
Yose Moji is used for signs, posters, tickets and programs to inform people about Rakugo events.
Other purposes are for books, CDs乫 titles, and even for advertisement that shows the effect of
unique Yose Moji letters.

Yose Moji is one of four types of Edo Moji letters that were produced during Edo era and passed
on to the present day.
There are four different types of letters, each for Kabuki, Sumo and Rakugo which are the Japanese
traditional shows and events, and also for Senshafuda.
Characteristics :
丂丂丂丂丂丂丂丂丂丂丂丂丂丂丂丂丂丂丂丂丂丂丂丂丂丂丂仸Good Luck letters
丒Bold letters written by a thick brush in black ink.
丒All Chinese characters are slightly lifted right-ward.
丒Less blank space made with balanced lines.
丒Lines with rounded ends.
丒All solid lines
Yose Moji is usually written in hope for a show乫s success with
countless audiences.
丂 丂丒The Chinese characters in bold letters with narrow spaces
between letters symbolize that a theater packed with
audiences that not even a single person would be able to
come in.
丂 丂丒The Chinese characters lifted right-ward signifies the
show乫s continuous success with a great number of
audiences.
丂丂丂丂丂丂丂丂丂丂丂丂丂丂丂丂丂丂俫倝倱倲倧倰倷丂倧倖丂倄倧倱倕丂倣倧倞倝
Rakugo became a art of storytelling in the late 1600s. In the late 1700s, Yose (a gathering for
listening to the stories) started to take a form of events to offer the best stories to people with
posters and entrance fees. Therefore, Yose Moji started to use at around the same period of time
in Raguko history. However, the letters used in those days were not unique but in general style among
calligraphers. After 1830 around Tenpo era, Eijiro who was a dyer combined two letters, one was
a completed form of letters, Kantei style for dramas and the other was a form of letters used by
Chochinya (lamp makers at Edo ear) . 丂丂丂丂丂丂
Then EIjiro started to use this unique letters for signs and posters for Yose - the gatherings for
stories. The letters was called Bira-ji ( Sign letters ) because they were used for signs.
This style of letters was the origin of Yose Moji.
After the death of Eijiro, Magojiro who ran a clog shop took over Eijiro乫s job and was busy writing
for orders. He started to print signs with a woodblock printing method besides calligraphy.
The printed sign was called Hango Bira which was the name of sings printed and issued by a woodblock
printing method. Since Magojiro乫s nick name was Seijiro for Bira (sign) shop, he was called Bira-Sei.

Bira-Sei乫s oldest son took over his job and the second son became Bira-Tatsu. The Bira shop was in
great success through generations after. Bira-Sei乫s job was passed on to three generations.
Bira-Tatsu乫s job was also passed on to two generations. The second generation of Bira-Tatsu was
especially successful and became a famous calligrapher.
When Bira-Tatsu was in his peak for his job in Taisho 10 (1921), a young story teller who was just
a assistant performer at that time visited the work place of Bira-Tatsu.
丂丂丂丂
That was the beginning of Yose Moji which was completed by this young man. He is a man who created
the present Yose Moji and had 16 followers and made the Tachibana school of Yose Moji. His name was
Ukon Tachibana, a head of the school.
The followers of the Tachibana school of Yose Moji are the only authentic calligraphers to pass
the traditional letters on to other followers, to write them, and to instruct them at various places
in order to foster their followers.丂


Inquiry
E-mail
Umon-Tachibana